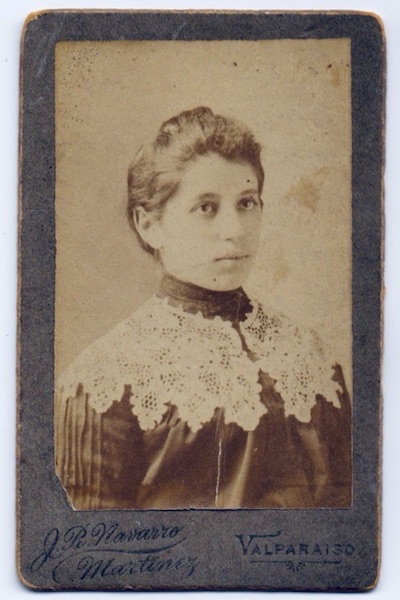 The author relates the following story about her great-grandmother through what she heard over the years from her father. There are no photographs of Rosa Puron (the image above is of Rosa's daughter, Aurelia), and only one found document. Without Barros's father's words, without her research, Rosa Puron's story would never have been known at all.
The story of my great-grandmother, Rosa Puron Garcia, is really my father Domingo Barros's story. I grew up listening to his many repeated tales and life lessons of his family, but most often it was about his grandmother, Rosa Puron, who he described as an educated, elegant, proud woman. Most important of all, she was of Aristocracy. My father would say, "Los Espanoles (the Spaniards) in Valparaiso, Chile, when they saw her walking down the street, they called her 'La Goda' (a Spaniard of noble lineage)." Rosa Puron taught my father to read and write and told him stories of her childhood and adolescence in the mid-1800s in San Roque de Acebal, Llanes, Asturia, Spain. She influenced his values in life, which were passed on to me. This is why I am so intrigued to learn more about who was this person, my great-grandmother Rosa Puron Garcia.
Since I don't have her birth or death certificates, or even a photograph, all I have are the interviews with my father, Domingo Barros Sampedro. My father also kept a wooden box, for more than thirty years, of family pictures and letters, of the correspondences between Rosa Puron and her family in Llanes, Spain. (I inherited the content of that box after my father died in 1991.)
The Early Years: San Roque de Acebal, Llanes, Asturias, Spain
Rosa Puron Garcia was born in San Roque de Acebal, Llanes, Asturia, Spain. She was the eldest of 13 siblings, born in 1860. The family lived on La Calle Banderas. My father recalled stories Rosa told him of how she would sunbath and swim naked in one of the beaches known as Los Tres Lagos (The Three Beaches).
Rosa was about 18 years old when she married Domingo Sampedro, who lived in a nearby town. (I did find Domingo Sampedro's death certificate that indicates he was born in 1856.) Domingo therefore married in his early twenties. Born in the same town were Rosa and Domingo's two older children, Miguel Sampedro, born 1885, and my grandmother Aurelia Sampedro, born 1886. (There was an older son who died.)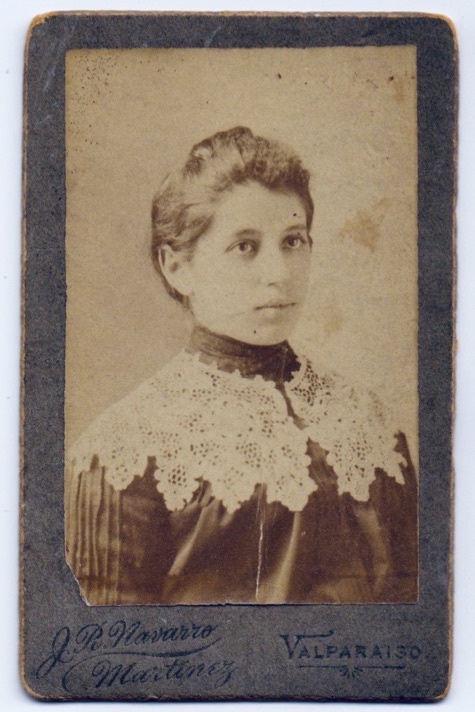 Aurelia Barros Sampedro was my grandmother (Rosa Puron's daughter). In this picture she is sixteen years old, pregnant with her first child, my father, who was born April 17, 1904.
Rosa Puron's Family: Connecting the Dots
Rosa and her husband Domingo Sampedro's immigration to Chile, similar to many immigrant families, cut Rosa off from her family, her parents and siblings. It was the period of the great migration to Latin American countries. From the letters of correspondences between Rosa and her family, I discovered that Rosa had a sister, Josefa Puron Garcia, a brother-in-law Facundo Sordo, and two nephews, who traveled to Mexico, which eventually became their permanent residence. I also discovered that Rosa had two brothers who immigrated to Cuba.
I find interesting how Rosa's siblings and extended family immigrated to different countries of Latin America, which I believe shaped their extended families. For Rosa Puron, it was her husband Domingo's vision of seeking fortune and wealth in the south of Chile, while for her siblings who were merchants with financial assets, they went seeking their wealth in Mexico, Cuba, and Argentina.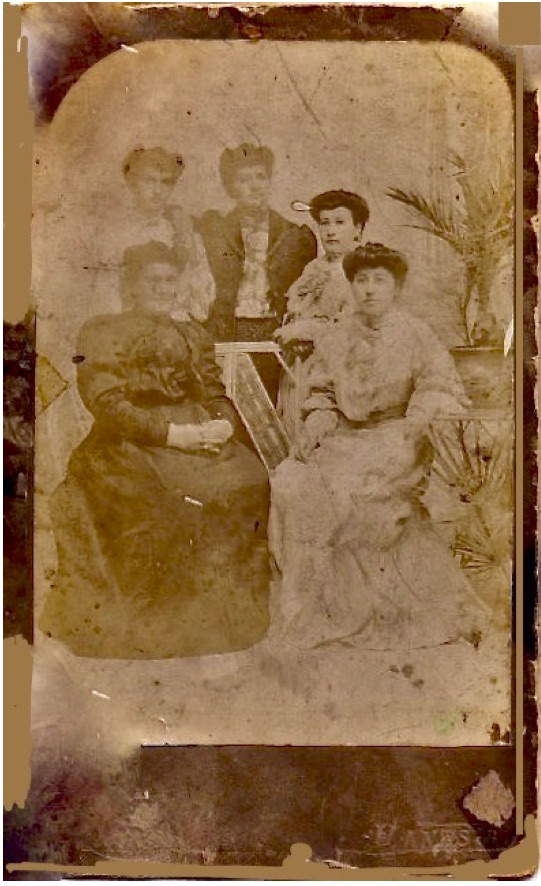 The inscription on the back of this picture says, "Dear niece Rosa" and is dated October 18, 1904, taken in Llanes, Spain. I suspect that the older woman dressed in black and seated in a chair, is Rosa Puron's aunt. If Rosa arrived in Chile in 1896, it has been 8 years of separation from this family. The younger women may be her cousins.
The Inheritance
In 1931, Rosa was left an inheritance of a 13-acre property located in the town she was born. My father had a document, kept in that wooden box, that specified the heirs of this large estate including Rosa's entitlement. He often showed this document to relatives that visited our home as proof that we came from a family of Aristocracy. He liked relating the fantasy that we were of royalty, blue bloods, and that there may have been a Princess in the history of our ancestors.
I enjoy thinking about my father's fantasy, and perhaps this is another reason I am doing this research on my great-grandmother.
Ancud Chiloe, Chile
Rosa Puron was about 36 years old when she immigrated in 1896 to Ancud, Chiloe, Los Lagos, Chile. Domingo was 40 years old. Rosa's two youngest children, twins, Julio Ignacio Sampedro and Alvaro Ignacio Sampedro were born soon after their arrival, on July 31, 1896. In those days the trip from Asturias, Spain to the south of Chile took about 10 months. The twins were probably conceived on the ship.
I imagine what life was like for her in that cold, bitter climate. Furthermore, along with her farming responsibilities, she had to take care of those twin babies, Julio and Alvaro. In comparison to her sister, Josefa, who traveled to both her sons' weddings in Mexico, Rosa Puron's life in Chile was harsher. There was no world travel for her. In 1897, after a year of farming with her husband in Chiloe, Chile, they failed.
My father often related this story: "Your great-grandfather read in the newspaper that if they moved to Chiloe, Chile, they would be given a dollar a day, land, wood, a cow, and a horse. Life was hard for them, flocks of birds ate the seeds, so they did not grow the expected crops. They lived there for a year and a half and left to live in Valparaiso. Domingo found a job delivering milk."
Valparaiso, Chile
In Valparaiso, Rosa and Domingo were welcomed as members of a community of Los Espanoles (The Spaniards). They helped each other. Rosa Puron gave birth to three other children that died shortly after they were born. Rosa was about 40 years old when she gave birth to her last child, Jenaro.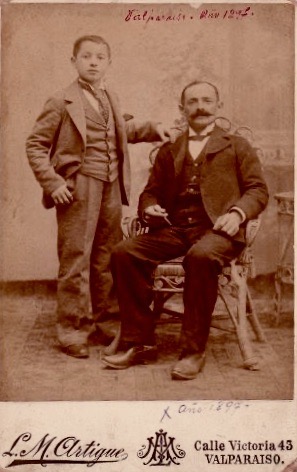 This picture is of my great-grandfather, Domingo Sampedro, with his oldest son, Miguel. It shows that he was a proud man, but my father often told a story that he was not a loyal husband. I also wonder why Rosa Puron was not included in the family picture.
My father often related a story that Rosa's husband, Domingo Sampedro, was murdered by his friend (compadre Alvaro) because he was having an affair with the friend's wife. "After his death, Rosa Puron, with her children, was left poor, on the street, and miserable, but she was a brave and a proud woman. The Espanoles helped her find work. They found her a job washing the table linens of restaurants and bars." This is how my grandmother Aurelia, only 15 years old, met her husband, Francisco Barros, who was 34 years old, and my father was conceived. They married after my father was born, because Francisco wanted a boy. I asked my father, "Would he have married her if the first born had been a girl?" My father laughed.
Iquique, Chile
My father often talked about how Rosa Puron, who was forty-four years old when he was born in 1904, was more of a mother than his own mother Aurelia. He often related the story that it was his grandmother who taught his mother how to bath him, since his mother almost drowned him. He said she would bathe him like she was washing clothes. After the birth of my father, named Domingo Barros Sampedro, a year later his sister, named Rosa Barros Sampedro, was born. Rosa Puron moved with her daughter Aurelia, son-in-law, two grandchildren, and her own children to Iquique, a town in the north of Chile.
When living in Iquique, my father remembers vividly when Rosa took him to witness the horrific repercussions of the massacre of the striking miners at the school known as Santa María on December 21, 1907, when he was four years old.
The Santa María School massacre is considered the bloodiest massacre in Chile's history. It was the massacre of striking workers, mostly saltpeter works miners, along with their wives and children, committed by the Chilean Army. Workers in the nitrate mines, a leading industry owned largely by foreign (British and German) capital, went on strike on December 4, demanding humane working conditions and higher wages. By December 13, a general work stoppage in all of the nitrate mines was announced.
General D. Roberto Silva Renard, appointed by President Montt, gave the order to open fire with machine guns on the strikers' encampment occupying the Santa María schoolyard. The number of victims is undetermined, but it is estimated by various sources at between 2,000 and 3,600.
A story my father often told was that the day he accompanied his grandmother to the schoolyard, Rosa tried to help a miner who was in a hole, still alive, begging for mercy and pleading for her to give him water. She scolded the troops that were stationed at the school about their behavior and that they should give this poor man water. They responded that if she interfered they would throw her in the hole with him. She fled with my father beside her.
Rosa Puron moved, with her daughter and grandchildren, back to Valparaiso in 1921 when her son-in-law, Francisco, died. She lived to 76 years old. My father related that she died in 1936 from a heart attack when she saw the knives the doctors had prepared for her eye surgery. My father was the oldest of her ten grandchildren born in Chile. We continue to have a close-knit family, made of Rosa's two grandchildren and 20 great-grandchildren. That, too, I attribute to our great-grandmother, Rosa Puron Garcia.
---
Gina Barros is a social worker, community activist, and writer. She received her MSW from New York University in 1984 and has since continued her post graduate studies. She lives in Williamsburg, Brooklyn.