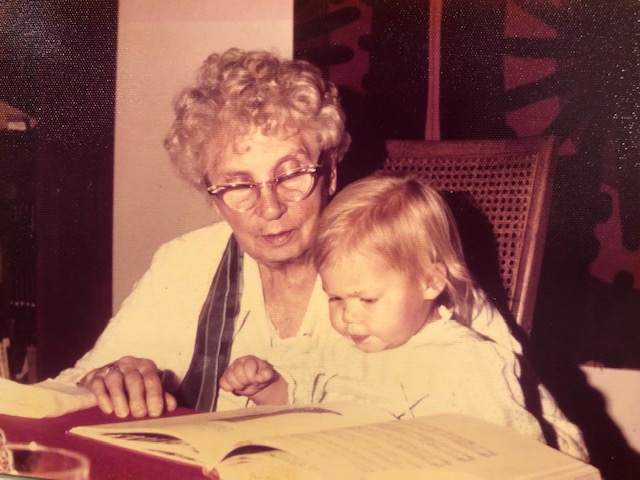 As I understand it, my maternal great-grandmother Odora walked out of her village near Lviv in Ukraine as a teenager, alone. She walked across Germany to make her way to New York City. Speaking little or no English, she met her first husband, Michael, in Alphabet City and married in 1914 at the age of seventeen or eighteen. She found work as a cook in some of the Ukrainian restaurants in the neighborhood, the predecessors of Veselka. Odora's second husband George was also Ukrainian but they married later, after my Grandmother Sonia and her sister were born.
I remember my great-grandmother as Nana. We lived in California and we didn't visit her in New Jersey that often. Her orange tabby named Candy is my strongest memory. After she died, my aunt gave me a small white cardboard box with a crocheted green doily and a sterling and marcasite pin that says MOTHER in script—funny items for a ten-year-old, but now, as a mother and a maker/artist, they finally have meaning and value.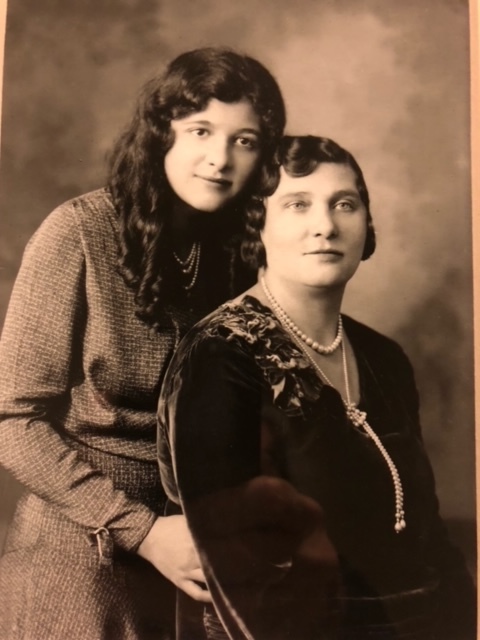 My great-grandmother Odora (Meleta) Maczyszyn, aka Nana, with her daughter, my grandmother Sonia (Masyn) Spurgeon.
Growing up, we made pysanky eggs and pierogi around Easter. Later, when we moved to New Jersey, we visited Surma, a now closed family-run store in the East Village dedicated to Ukrainian crafts, and admired the embroidery and the intricacy of the professional pysanky in traditional reds and blacks. I always wondered about the indecipherable alphabet and why Easter was such a big deal—our family Easters featured the secular staples of egg hunts and jelly beans. When James and I moved to the city, we landed, by coincidence, in Alphabet City, just blocks from where Nana met those husbands and the restaurants she worked in. A few years ago my mom gave me a collection of random small plates and bowls that I remember from growing up. The family lore is that Nana had "liberated" them from those restaurants she worked in.
These are small connections to a country that has always seemed so far away and unfamiliar. The news from Ukraine is shocking and awful, heroes made and lives lost, and the reason why is not clear except it's the wish of a madman.
I shared these thoughts with my mom, who said: "What a difference one generation makes. I grew up hearing Ukrainian-accented English, eating Ukrainian dishes, and dressing in Ukrainian clothing for Halloween. You and your sister have none of this context: it's all pretty vague and far-away background stuff. A loss in many ways, but it's also one way families can evolve and survive in a new country—by dropping the old things and picking up the new."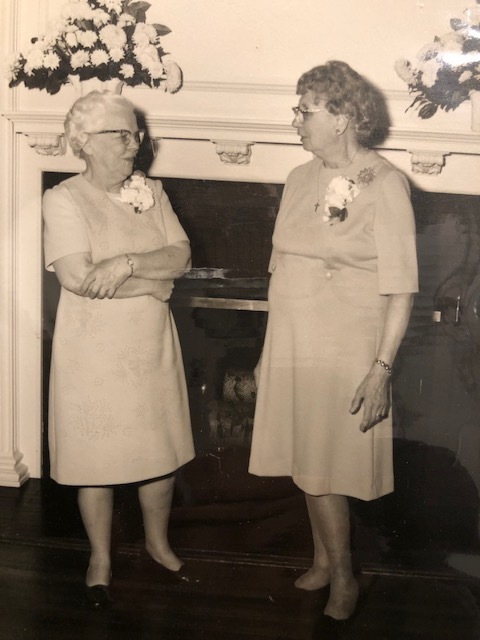 Both of my great-grandmothers chatting at my parents' wedding: Finnish on the left and Ukrainian on the right. Girdles on both.
---
Lauren McFarland is a mother to three wonderful boys, a ceramist and maker, a feminist, and a sometimes activist and runner living her best life in Brooklyn.