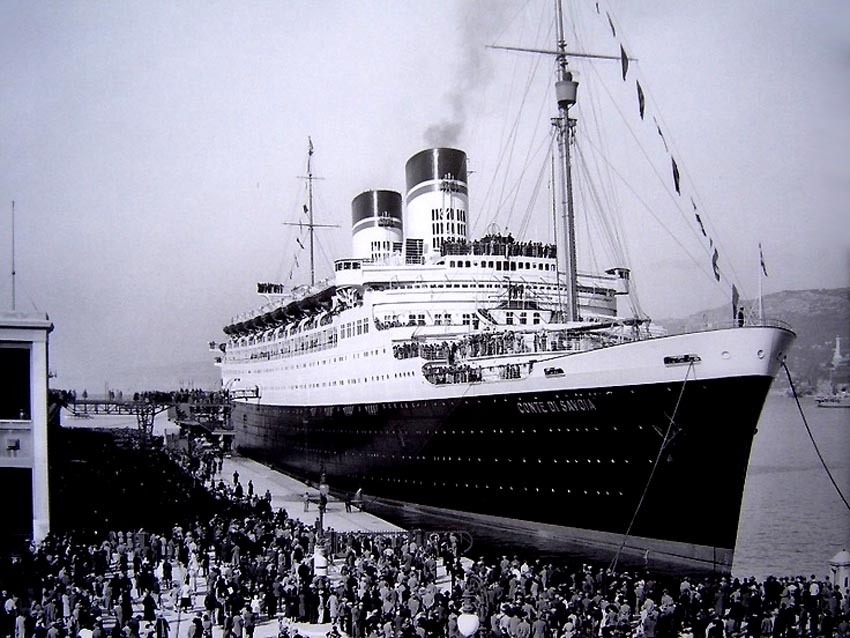 Tamara Backer Tepper's grandmother, Nona Stern Stein, would often tell this story about her father, Isaac Stern, and his sister Rita. This is the story as told by Nona's sister, Connie.
In August of 1936, my family, Mom, Dad, Nona, and I, were returning from Europe on the Conte di Savoia. On the final day at sea Dad was informed that a radiogram had arrived for him. I was sitting on the deck and recall him coming up with the radiogram, opening it and reading it while walking back and forth. He must have read it many, many times in disbelief and wonderment. It read, "Greetings, Rita awaits your arrival. (signed) Monroe Sander." And herein lies a beautiful true story, which I will attempt to reconstruct.
My dad, Isaac Stern, was born in 1893. His parents were Lena Selz Stern and Jacob Ludwig Stern. Dad was one of four children, Joseph (b. 1896), Mena (b. 1898), and Rita (b. 1900).
In 1901 or 1902, Lena Stern died and my grandfather, Jacob, felt he could not raise four children on a rabbi's income. The two youngest children, Mena and Rita, were adopted by family members. Mena was adopted by Glitchen Selz Felsenstein and Jacob Felsenstein, his mother's sister and brother-in-law. Rita was adopted by her mother's brother and sister-in-law, Benjamin Selz and Suzie Arnstein Selz. My dad and his brother, Joe, stayed with their father. Rita was the only child of Benjamin and Suzie Selz. They adored her and requested that her adoption remain secret. This wish was granted. Mena's adoption was not kept secret.
The story of the relationship between Rita and my dad is so incredible that I have decided to record it as I remember it and being told about it.
My dad, who was seven at the time of Rita's birth, was old enough to know about these adoptions and always wanted to know his sister, particularly as he became an adult. Obviously, he was not able to do very much about that. The story goes that he did know where she was, from time to time, as in summer rented houses, he would get a glimpse of her playing now and then.
It was known that Rita, as a child, had a governess who, upon dismissal, vindictively said to Rita, "Mena (who was being brought up as her cousin) is really your brother." This stuck with Rita over the years although she apparently never questioned her parents whom she loved and who cared for her deeply.
The years went by and Dad, who had been brought up by his father, was sent off at fourteen to The National Farm School (now, Delaware Valley College) in Doylestown, Pennsylvania. His father sent him there because the president of the school, Dr. Krauskopf, was an old friend. Jacob Stem was confident that Dr. Krauskopf, a most respected man, would take a personal interest in my dad, which in fact, he did.
When my Dad left Farm School, after two years, he went on to try and support himself any way possible and, for a time was a motion picture projectionist during which time he attended the Baron de Hirsch School for mechanical trades. This led him to a job with Paper Working Machinery Co. which he bought after leaving them and starting his own company. He was very successful over the years and became part of the main stream of the Jewish social circle.
Dad was always eager to meet his sister who, by that time, had married Monroe Sander. Prior to their wedding, Monroe was told of the adoption and was asked by Suzie and Ben not to tell Rita. He followed their wishes. Her parents told him that Rita would learn all about it from their wills.
I recall being told that Dad's path crossed with Suzie Selz after her husband, Ben, died. They met at the opera and at other formal occasions. In 1936, both my dad and Rita were invited to tea given by a mutual cousin who was in New York City from Baltimore. Upon arriving at the cousin's hotel, he realized that Rita was there and apparently was in shock. It is said that he didn't remove his coat and sat on a warm heater most of the afternoon.
That evening when Rita was at home she asked her husband, Monroe, "Who do you suppose this Ike Stem is that I have never met before?" There was a real attraction for each other. Monroe replied, "He is Mena Stern's brother." (Rita knew that Mena had been adopted.) Rita was truly bewildered and now recalled that she had once been told that Mena was her brother. Apparently, Rita then asked Monroe all sorts of questions. He felt that it was incumbent upon him to discuss it first with her mother.
Fortunately, Suzie now felt that it was the proper time to tell the truth to Rita. Suzie had come to respect my dad, as one would upon knowing him (coming from a very prejudiced daughter). Both Rita and Dad were outstanding members of the community.
And so—while we happened to be abroad, Monroe told Rita the whole story, when she was 36 years old!
We arrived in New York and there were Rita and Monroe waving from the dock. We, of course, did not know what had happened but I recall Dad saying to my mother, "She's dressed in a bright print dress so, happily, Aunt Suzie must still be alive."
Rita and Dad spent that entire afternoon together riding around Central Park in a horse and carriage to talk and talk.
They had a beautiful and a deep relationship until the day Dad died—two beautiful people.
Epilogue: Rita's loyalties always remained with her adoptive parents, Suzie and Ben. Joe Stern and Isaac Stern were very devoted brothers. Joseph died of tuberculosis in 1924.
Mena Stern readopted his real surname in 1936.